4 Reasons Why You Need To Regularly Pressure Wash Your Property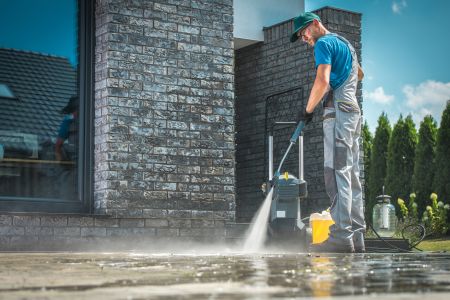 Is your home looking a little bit worse for wear? Have you noticed that your roof and outdoor furniture are covered in dirt and grime? If so, you should consider the benefits of pressure washing. At first glance, pressure washing might seem like one more task on an already lengthy to-do list, but it actually plays an essential part in maintaining the appearance and value of your property. In addition to keeping your home or business clean, pressure washing can also help you spot damage- ensuring your family does not develop any health issues caused by dirty buildup. Below are four reasons why you need to pressure wash your property regularly.
To Reduce Health Hazards
Pressure washing is a great way to reduce health hazards caused by molds, mildew, and algae. It can help you maintain a clean, healthy, and safe environment for you and your family while assisting in the removal of dirt and stains clinging to your exterior. With a professional pressure washing and roof cleaning service at your side, you can worry less about harmful contaminants getting into the interior of your home.
Want to make sure your home stays safe? Reach out to a professional pressure washing service today to keep your home secure.
To Give Your Property A Powerful Clean
When it comes to cleaning up your favorite outdoor areas, such as patios and driveways, pressure washing is an excellent option. Not only does this process eliminate debris that has built up over time, but it also helps remove stubborn stains and grime so that your exterior space looks cleaner overall!
To Increase The Appearance of Your Property
Pressure washing is an easy and affordable way to give your home or business a makeover. For one, it can make it look newer, giving it the appearance of being less old and worn than it actually is. Two, pressure washing helps your property look more appealing, which could encourage people to purchase your home ifyou'ree in the market to sell. You can keep your property in pristine condition with the help of a professional pressure washing service.
To Prevent Damage to Your Property
When you pressure wash your home, you will be able to remove dirt and grime that is likely causing damage to your property. When the dirt and grime are removed, it prevents contaminants from getting into the cracks of your home, which can lead to a variety of problems.
If you fail to pressure wash your home regularly, it can cause damage to delicate surfaces such as roofs and siding. This problem can also lead to mold growth if left untreated for too long. If mold grows on these parts of the house, it means that they are not properly ventilated and may cause structural and health issues in the future.
To Save Money & Time
If you're someone who wants to save money and time, pressure washing is the method for you. With pressure washing, the entire job can be done in just a few hours, depending on how large your property is. This means that it will cost less and take less of your time than using other methods like hand washing or chemical cleaning products.
Additionally, pressure washing uses much less water than other cleaning methods while allowing you to help conserve resources and protect the environment from pollution.
Get Professional Help From LA Pressure Wash Pros
Be sure before you start any pressure washing job you understand pressure washing safety. It's best to consult a professional pressure washing company like ours if you're unsure about any step of the process. This will ensure that your residence stays in its best shape while reducing potential harm to employees or family members!
With our experience, we can help you come up with a cleaning schedule for your property. Call us today or chat with us online to learn more about all the pressure washing services we offer!
DON'T WAIT! SCHEDULE QUALITY PRESSURE WASHING IN BATON ROUGE TODAY!