Best Pressure Washing Company in Hammond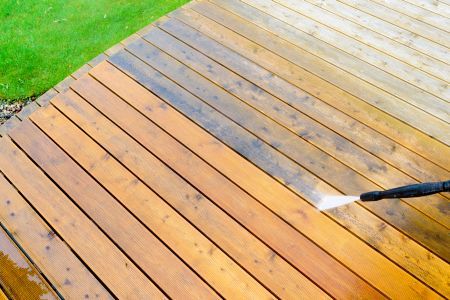 Whether you're looking to get your driveway cleaned or your entire house pressure washed, LA Pressure Wash Pros has got you covered!
The team at LA Pressure Wash Pros is proud to offer the best pressure washing services in Hammond, Louisiana. Our crew of trained professionals will arrive at your home or business on time and will make sure that you're happy with your service before they leave. At LA Pressure Wash Pros, we care about our customers and want you to have the best experience possible!
Our team understands that pressure washing isn't just about getting rid of dirt it's about making sure your home or business looks great! That's why we take our time and make sure every inch of your exterior surface is well-maintained
Contact our team today to get your Hammond property back to its original glory with the best pressure washing service around!
Hammond's Premiere Roof Cleaning Option
Roof cleaning is one of the most effective ways to increase the value and lifespan of your home. We use only the most trusted equipment and techniques while washing your roof to ensure that we get the job done right.
This includes pressure washing your roof with high-quality equipment so that it looks brand new again. Our team has the tools and know-how to get your roof looking great, so get in touch today to schedule a roof cleaning appointment for your home in Hammond.
Hammond's Top Driveway Washing Options
If you are looking for driveway washing services in Hammond, you've come to the right place! At LA Pressure Wash Pros, we have a professional team of experts that will get your driveway looking like new in no time.
Our staff uses products that are environmentally friendly, so you can rest assured that your driveway will be safe from damage caused by chemicals or other harmful substances. When we come to your property, we come with years of experience that will benefit your driveway and help your property stand out.
Our professionals know how to get rid of moldy residue and stains on concrete, as well as oil stains from vehicles that have been parked on the surface over time. If there are cracks or chips in the concrete due to age or weathering, our crew can repair those areas, so they look brand new again! We also offer power washing services for commercial properties!
Don't hesitate to give your residence the pressure washing it needs. Call us today for more information on our pressure washing services in Hammond or to schedule an appointment with one of our specialists!
Reviews & Testimonials on LA Pressure Wash Pros in Hammond, LA
There are currently no reviews or testimonials, check back soon!
DON'T WAIT! SCHEDULE QUALITY PRESSURE WASHING IN BATON ROUGE TODAY!